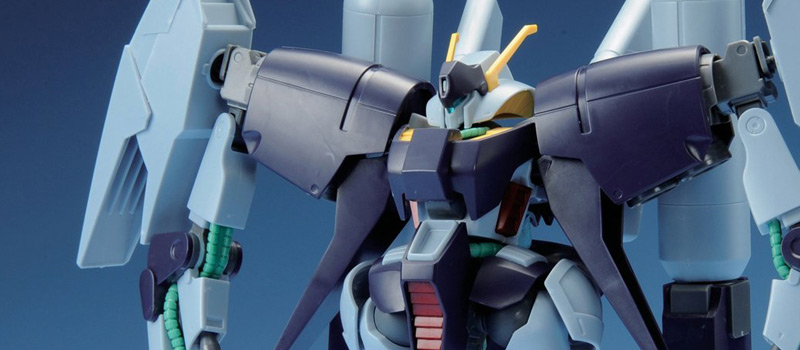 So I found this awesome Byarlant Custom randomly and for some reason I wrote it off as "that's how the kit looks." When I bought the kit, I looked through the manual and was shocked to find it was a lot less exciting than that picture I found on Tumblr so long ago. Needless to say, I've decided to do similar modifications, but with a different color scheme.

I saw this scheme used on a HEAVILY modified GM that looks like Jehuty from Zone of the Enders and Stargazer Gundam had a baby. It was mostly white and light blue with accents of gunmetal and gold. Absolutely awesome mixing that wasn't too busy. I was going to save this color scheme for the Nu Ver Ka or PG GP-01, but I feel like this kit would benefit from something a little "celestial." That poor Nu Gundam, never going to get finished.
So the first step was to git the parts trimmed so that I could put the arms on the connectors that held "fins" originally. I cut out the bars with the indent from the fins and fit them into the coupling that usually holds a polycap. I used an Xacto "saw" to cut them out. There is some space which will be filled with puppy to keep the bar steady, but for now its fine. This is the most bashing I've done and I plan to take it a bit farther the more I get into this.

I found out the original modeler used a Gaplant for the arms / feet / etc, so I ordered one off Amazon so that I can keep pushing for the same look and feel. I'll keep posting my progress as I go along. This and the Age-1 Gundam are pretty much fluff while I plan out my Banshee and Nu Ver Ka, so please enjoy!
I am behind on write ups and I will be spending some time catching up either tonight or this weekend. If you want to check out the my Flickr gallery for the Sinanju Stein or see any pictures of my quick and dirty murdered out Age-1 Gundam, feel free.